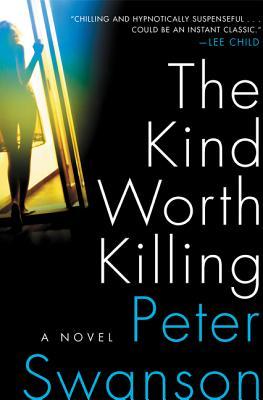 Publisher : Faber and Faber
3 September 2015
Copy : Paperback - Reviewer purchased
The Blurb
On a night flight from London to Boston, Ted Severson meets the stunning and mysterious Lily Kintner. Sharing one too many martinis, the strangers begin to play a game of truth, revealing very intimate details about themselves. Ted talks about his marriage that's going stale and his wife Miranda, who he's sure is cheating on him. Ted and his wife were a mismatch from the start—he the rich businessman, she the artistic free spirit—a contrast that once inflamed their passion, but has now become a cliché.
But their game turns a little darker when Ted jokes that he could kill Miranda for what she's done. Lily, without missing a beat, says calmly, "I'd like to help." After all, some people are the kind worth killing, like a lying, stinking, cheating spouse. . . .
Back in Boston, Ted and Lily's twisted bond grows stronger as they begin to plot Miranda's demise. But there are a few things about Lily's past that she hasn't shared with Ted, namely her experience in the art and craft of murder, a journey that began in her very precocious youth.
Suddenly these co-conspirators are embroiled in a chilling game of cat-and-mouse, one they both cannot survive . . . with a shrewd and very determined detective on their tail.
The Very Pink Notebook Review
This is a brilliant and dark psychological thriller that I devoured quickly. Written in three parts, the first finds us taken through the plot via the voices of Ted, a rich, successful man and Lily, an enigmatic and straight talking female. The two meet on a flight and quickly find each other sharing secrets which results in them agreeing to potentially meet to plan the murder of Ted's cheating spouse. This might sound ludicrous, but as you are drawn in via alternating narratives you quickly get swept along with the justification Lily, with her dubious past, presents and you can see how Ted's head could be turned.
With many twists and turns, from very early on, you are never quite sure where the story might go next. The author goes to great lengths to give you an insight into the histories of the characters, particularly Lily. This helps the reader understand why they do what they do. Why they feel how they feel - somehow it makes you not hate them.
What I thoroughly enjoyed was in parts two and three, with changing view points, this ultimately becomes the battle of the bitches. It is the women in the novel who are calling the shots, with two alpha females on a head long collision course. As unbelievable as some of the plot could of seemed, it is so well written, and the characters so well developed it really did seem viable.
What I liked about this book was it could have been a blood thirsty, body counting slay-fest, strewn with blood, gore and over the top action. But it isn't. It is calm. Calculated. Thoughtful. Cold but punctuated with passion. And of course, where there is passion and money, people can do things they never thought imaginable...
With all the main characters having their own agenda's, both clear and hidden, it makes for a compelling read. The three parts have different focuses which I did not see coming, thanks to the array of twists in the plot but I was quite a satisfied reader when it came to the outcomes for each of the characters and was kept hooked until the very end.
I found this book a very easy read, which given the darkness of the subject matter, is thanks to the fantastic writing. I liked getting the snap shots of character histories within the narrative, and was surprised that this did not slow the pace of the novel down.
The only negative I would have to say in regard to this book is on occasion I found a little too much detail being dedicated to travel routes. It didn't spoil my enjoyment but I did find it a little unnecessary. Other than that I found the book had a great balance of descriptiveness and action.
This novel gets a well deserved... four pink notebooks :