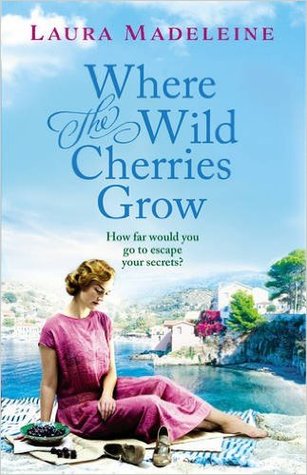 Published by : Black Swan
(Paperback - 15 June 2017)
Copy - Received from Publisher
The Blurb
I closed my eyes as I tried to pick apart every flavour, because nothing had ever tasted so good before. It was like tasting for the first time. Like discovering colour . . .

It is 1919 and the war is over, but for Emeline Vane the cold Norfolk fens only are haunted by memories of those she has lost. In a moment of grief, she recklessly boards a train and runs from it all.

Her journey leads her far away, to a tiny seaside village in the South of France. Taken in by cafe owner Maman and her twenty-year-old son, Emeline discovers a world completely new to her: of oranges, olives and wild herbs, the raw, rich tastes of the land.

But when a love affair develops, as passionate as the flavours of the village, secrets from home begin blowing in on the sea wides. Fifty years later, a young solicitor on his first case finds Emeline's diary, and begins to trace a story of betrayal, love and bittersweet secrets that will send him on a journey to discover the truth...
The Very Pink Notebook Review
Every now and then a book comes along whereby when I finish it I think to myself - I will read that again and again - some examples for me include Little Women and The Great Gatsby, more recently Gone Girl and I Let You go. Where the Wild Cherries Grow by Laura Madeline has just added itself to that list.
Now I must admit the cover of this book, well, it didn't enthral or entice me into reading it. I found it a little dull and twee and was worried the book would be too, perhaps more something my mother might enjoy. THIS WAS NOT THE CASE AT ALL.
Inside the reader finds a joyful, pleasure in the beautiful and quite frankly, mouth-watering, story of Emeline Vane. Disappearing in a puff of mystery when she was just 19, in 1919, she is presumed long dead by the family of 1969 which is our starting point. With the family eager to be able to sell the derelict manor house sitting on prime real estate to a developer they must seek proof she is actually dead. They enlist the help of small time solicitors Hillbrand and Moffat and the case falls newbie Bill Perch.
Written between two narrators, Bill Perch in 1969 and Emeline Vane in 1919, the world of Emeline is slowly unravelled explaining to the reader the events leading up to her disappearance and pieces together what happened afterwards. As Bill Perch's investigation continues he begins to feel a bond and obligation to Emeline Vane to discover the truth - he believes she is still alive - going against what he is being paid to do. Thus not only do we go on Emelines adventure but Bill's as well.
There are a whole host of quirky characters within this novel, who open both narrators eyes and I loved them all, particularly Emeline's 'boss' Clemence, with her warm and wise motherly love for the town which she cooks and lives. The author's use and descriptions of recipes and ingredients are so passionate and vivid you can almost smell the tomato's and garlic roasting. I loved the stories behind them and, at this point, Kudos must go to Madeline for her research of the traditions and cultures of the cuisine of the time.
Although this is tale told gently and with amazing locations and settings the mystery is kept really strong throughout. It keeps you wondering and turning the pages and I was desperate for Bill to discover what happened to the scared 19 year old who gave up everything she knew in order to have a real life.
It was totally absorbing to read about the women's world of the time and I think if I was Bill Perch I would have been inclined to through caution to the wind and do exactly the same as what he does! This was one of those books whereby you near the end, but still so much is to be discovered and I loved the ending - I wished there had been more of it, a longer scene between the two final characters that went deeper and into more detail. The final sentence by Bill really made me smile. For me it would have been the perfect place to end - I personally didn't really feel the epilogue was really necessary.
Beautifully paced and written with a gentle hand I can not recommend this book highly enough and as such Where the Wild Cherries Grow by Laura Madeline receives a Very Pink Notebook rating of :
About the Author
After a childhood spent acting professionally and training at a theatre school, Laura Madeline chose instead to focus on studying English Literature at Newnham College, Cambridge.
She now writes fiction under three different psuedonyms. Laura lives in Bristol, but can often be found visiting family in Devon, eating cheese and getting up to mischief with her sister, fantasy author Lucy Housom.
Laura can be found on Twitter @esthercrumpet.